WALLEYE FISHING: Not a lot of change in regards to the Walleye Fishing on Big Spirit Lake. Trolling or drifting live bait on spinners or Cody Crawler Rigs w/ Night Crawlers Big Spirit can get finnicky as you probably have already figured that out!!!! Trolling weedlines is best right now! Anchoring on a rock pile or fishing the running water as well are best options. We like to tell people to get out in the morning & put a day in of fishing to maximize your opportunity, because you never know what time of day they will decide to bite. Cody Rigs are hand tied at Kabele's & are $2.99 IN STOCK! There are some really good days & we see pretty quick morning limits AND THEN, we get feedback they are slow. We do not have specific 'hot spot' reports, somedays guys are having great luck on Reeds Run & then other days they are up on Cottonwood/Jackson Pt. Some guys have better luck on Leeches & other on Crawlers. At night – off the dock & shorelines is OKAY right now.
We are hoping an earlier Walleye bite will be starting, wouldn't right after supper be just perfect?!
Continue to use plastics such as Berkley Ripple Shads, Northland Impulse Paddle Minnows with 1/8 or 1/4 oz. Neon Moon Eye Jig head OR Crystaleyes Jigs! Walleyes are loving "BLING!" As far as West Okoboji & East Okoboji Walleyes we are hearing some nice BIG Walleyes on East Okoboji, guys using using Berkley Flicker Shads in Pro & Slick!
PANFISH: We have not heard a lot of feedback on Bluegills, except they have moved out in the boat a lil deeper. Best to use Medium Leeches & Belgium Worms. Always can try the old standby – SHUCKS JIGGER MINNOW / PILKE! Those can be a good option on those West Okoboji Bluegills. Some Crappies occasionally up at the Grade, but just not hearing feedback anymore on them on West Okoboji. Seeing a few Yellow Bass on Minniwasta, again Belgium Worms are a great option for those & on East Lake Okoboji docks.
BULLHEADS: WHOA have we see the bullheads bite Spring & early Summer, really amzing how many bullheads are actually being caught. The Grade, Little Spirit Tube, Spillway OR just off the docks using Night Crawlers & Leeches.
If you have any pics or reports we would love to hear from you ~ kabelestradingpost@gmail.com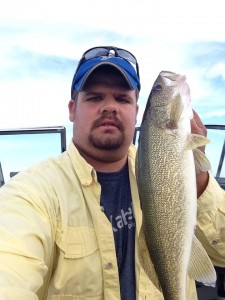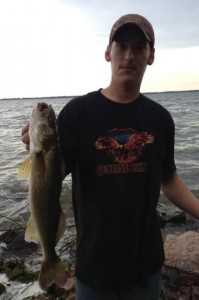 27.